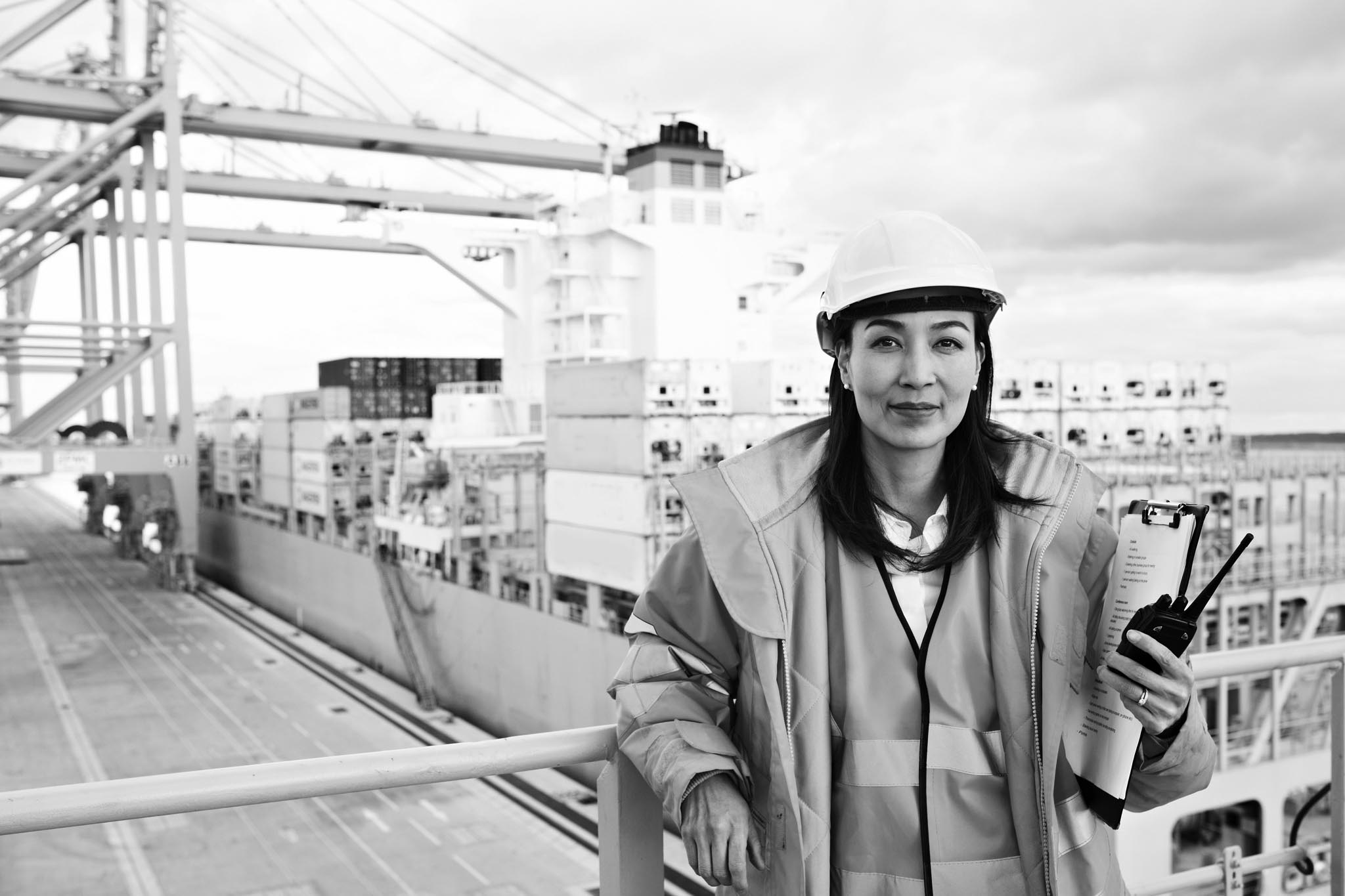 Our Workplace Health and Safety Services
Health and Safety Audits and Gap Analysis
A workplace health and safety management system is a set of policies, procedures, and plans put in place to minimise the risk of employee injury and illness from workplace operations. Your people, the nature of the work they carry out, and WHS legislation change rapidly, so it's important to regularly check for any gaps in your management system.

Our safety consultants conduct audits and gap analysis to ensure your business is complying with current WHS/OHS legislation and providing a safe work environment. Our WHS audits can be tailored to suit your workplace – whether you're looking for a simple fine tune of your safety compliance via an online appointment, or a fully comprehensive on-site review to check for any gaps in the management of your workplace health and safety.

Through on-site reviews, our safety consultants can assess the specific WHS needs of a business and provide a report on the support required.

Our Safety Audits and Gap Analysis benefit workplaces by:
Ensuring gaps in WHS compliance are not overlooked, reducing risks to employees and the likelihood of prosecution and fines.
Making sure your safety management system is evolving and continually improving using feedback.
Integrating reports with other management systems.
Providing more informed decision-making, strengthening corporate culture and demonstrating due diligence.
Providing peace of mind that your workplace complies with WHS legislation and regulations.


Safety Program Implementation
Our WHS consultants can provide end-to-end support to fully manage your workplace health and safety policies, procedures and plans, or simply help you to get a part of your safety program up and running.
We can integrate our services into your existing business operations to enhance your existing systems – whether you use a paper-based safety program, or a digital solution. For those wanting to move to a fully automated safety management system, our WHS consultants can also work with businesses, small and large, to onboard them with WHS Compliance Management Software – AltiusWHS.
Our focus is on ensuring legislative compliance and providing a safer working environment for employees, with expertise that benefits your business by:
Ensuring compliance with WHS legislation and regulations.
Managing the contents of safety documentation within the system.
Making sure your management system is effective in protecting people from harm and minimising claims.
Checking the system includes mechanisms to continually improve using feedback.
Helping businesses to integrate their WHS system with other management systems.
Developing a system that strengthens corporate culture and demonstrates due diligence.
Ergonomics
Our physiotherapists, occupational therapists and exercise physiologists deliver tailored ergonomics training to groups or individuals, through face-to-face or telehealth sessions. Training aims to create a better match between your employees, the work they perform and the equipment they use. Based on sound ergonomic principles, we teach employees optimal positions in which to complete their work tasks.
Employees involved in lifting, pushing, pulling, and carrying as part of their work are trained in correct manual task handling - focusing on correct postures, positioning and breathing. For office workers, we cover safe work postures, appropriate working angles of the upper limbs, sitting positions, viewing angles, optimal workstation layout and how to make basic ergonomic adjustments to workstations.
Our ergonomics education:
Explores the duration of work, balancing the physical and mental demands of tasks, the importance of stretch breaks and regular posture variation.
Examines ergonomics principles and how they apply to individual working arrangements such as hot desking. We always allow time for discussion on ergonomic issues specific to each workplace.
Can cover the advantages, disadvantages and management of standing desks.
Fosters an ergonomics ethos at all levels of an organisation.
Job Task Analysis
A Job Task Analysis provides critical information for recruitment, performance management, rehabilitation, and vocational redirection. We examine the genuine occupational demands of a role, including the physical, psychological, cognitive and functional demands required of any occupation and cover specific training opportunities and pre-employment screening.
A Job Task Analysis reveals the minimal abilities required of an individual to safely, consistently and efficiently perform either specific job tasks, or a complete occupation.
Job Task Analyses benefit organisations by:
Providing a solid foundation for human resources, work health and safety and return to work functions.
Building employee confidence through transparent and clear role expectations and performance measures.
Improving recruitment practice through clinically benchmarked Pre-Employment Functional Assessments (PEFAs).
Benchmarking relevant skills and competencies.
Supporting the management of workplace injuries, assisting planning, and communication with all stakeholders.
Enabling a collaborative, empowering approach to the return to work process by providing consistent and objective performance requirements.
Identifying risk exposure allowing for task, personnel, or equipment modification.
Providing a basis for training, induction and development of new team members and for the development of a suitable duties dictionary to communicate and provide a safe return to work.
Pre-employment Screening
Altius Group Pre-employment Screening and Medical Assessments (PEFAs) are a valuable part of the recruitment process and help build a solid foundation for a productive and healthy workforce. A PEFA provides valuable insight into an individual's physical capacity to safely meet the functional demands of a job before they start work. We use robust, objective assessment tools, including a detailed medical questionnaire, thorough musculoskeletal screening, and physical testing with functional assessment components, all tailored to the role's inherent requirements.
Depending on the role and work environment, additional services may be incorporated into a PEFA, including audiometry tests; drug and alcohol screening; spirometry testing; job specific functional assessments; pre-employment medical assessments; mental health assessments and resilience and cope scale assessments.
Our pre-employment screening and medical assessments:
Ensure candidates are well-matched with the demands of a position.
Form the basis of a robust front-line risk management strategy.
Control the frequency and cost of injuries in the workplace.
Increase staff retention and support workplace productivity.
Clarify an individual's medical history and determine the impact of past or current conditions on their capacity to carry out a job before they start work.
Provide candidates with an understanding of what a role entails and educate them on safe work practices before they commence work.
Improve an organisation's safety culture and reputation by establishing clear expectations around health, safety and work capacity.
Identify previously undetected health issues that may, with suggested management strategies, improve long-term health outcomes for individuals and organisations.
Address specific physical or health concerns relative to an organisation's work environment.
Drug and Alcohol Testing
Our certified consultants administer efficient and accurate on-site drug and alcohol screening tests to minimise the health and safety risks posed by recreational drug use. We conduct either oral or urine drug and alcohol testing in accordance with Australian Standards.
We perform saliva drug device testing, simply and discreetly, ensuring confidentiality, with results available in minutes. We can also arrange for the drug and alcohol screening to be conducted by way of Chain of Custody testing at an accredited pathology centre. These results can then be relied on for medical or legal purposes. We also assist workplaces to develop and review their Drug and Alcohol Policy.
Outsourcing drug and alcohol testing:
Covers all aspects of a drug-testing program, from the policy, to collection, analysis, and reporting, saving you in set-up and equipment costs, as well as employee time.
Allows testing to be conducted at random, after an incident or accident, on suspicion of drugs or abuse, or as part of a return to work program.
Provides quick, reliable results.
Minimises risks to employee health and safety.
Ensures tests are carried out in accordance with Australian Standards.
Health Checks
Our health checks identify individual and workplace-related health issues or barriers, to help you provide the right employee wellbeing solutions for your team. Health checks also enable us to measure the impacts of wellbeing programs.
Carried out by qualified medical and allied health professionals, our tailored screening options include General health screening; Blood pressure; BMI; Cardiovascular fitness; Cholesterol; Blood glucose; Waist circumference and exercise and sleep habits.
Health checks can also be customised to include:
Other health metrics: Audiometry screening; Spirometry and vision screening.
Lifestyle screening: Stress; Alcohol consumption; Physical activity; Smoking and nutrition.
Musculoskeletal screening: Flexibility; Strength; Physiotherapy-based musculoskeletal screening.
Psychological screening: Stress; Anxiety and depression.
Fitness for Duty
Employers may request a Fitness for Duty assessment to find solutions to complex injury management cases and to support employees with health conditions to safely stay at or return to work. Our medical specialists offer impartial and independent evaluations of an employee's health and deliver timely, expert and comprehensive assessments.
An employer may arrange a Fitness for Duty assessment by an allied health or medical specialist when they have concerns about their employee's fitness for duty, their ability to fulfil the duties reasonably required of them, or their capacity to perform the inherent requirements of their role. These insights are backed by our consultants' up-to-date medical knowledge and experience across a range of specialties.
Our Fitness for Duty assessments:
Are run by medical specialists who will answer all questions objectively and with integrity, and report findings in a candid and direct format.
Ensure findings are easily interpreted and acted on in the best interests of all parties concerned.
Support better management of injuries and illnesses within the workplace, ensuring greater control over the operation.
Are impartial and independent.
Manual Task Program
With over a third of workplace injuries associated with manual tasks, we guide employees through best practice for lifting, carrying, pushing, pulling, or holding a load, object or person. To ensure our education helps to protect an employee's fitness for work, we tailor training to cover duties specific to each workplace.
Our allied health professionals assess the physical demands unique to each role and each workplace, then tailor training to cover the impact of duties specific to each work situation, with particular attention paid to impacts on employee musculoskeletal functioning. Our Manual Task Program aims to empower employees to take responsibility for their own safety and physical wellbeing, covering:
Manual task risk factors including forceful exertions, awkward and static postures, vibration, repetition, and duration.
The importance of risk assessments in relation to lifting, lowering, pushing, pulling, carrying, moving, holding, or restraining any person, animal or thing.
Safe methods of lifting, pushing, pulling and carrying - focusing on correct postures, positioning and breathing.
Risk factors for workplace-specific issues such as Carpel Tunnel Syndrome, Occupational Overuse Syndrome and shoulder injuries.
The importance of stretching, strengthening, sleep and diet to injury prevention.
A discussion of manual task practises specific to your work environment.
Our Workplace Health and Safety Services
We have over 20 years of experience navigating the complexities of workers' compensation.
We hold the latest knowledge on WHS legislation and safety system requirements.
Our WHS services support lower insurance premiums and claims prevention.
We are leaders in innovation, developing AltiusWHS, to make compliance management simple.
Altius Group brings the full range of allied health professionals together in one accessible hub.
We deliver end-to-end solutions tailored to your business size and industry.
Frequently Asked Questions
A WHS Management System includes:
a well-thought-out set of policies and procedures to meet current legislation and the health and safety needs unique to your workplace.
details of how these safety measures will be achieved.
details of how safety documentation will be managed.
systems for feedback on safety for continuous improvement.
integration with other management systems.
A safety audit delivers peace of mind by ensuring organisations are complying with the latest legislation, and doing their best for their employee's health and safety while providing a line of defence in the case of workplace injury or illness. A safety audit makes sure you have identified all workplace safety risks and hazards and have the systems in place to safeguard against these.
The audit checks that you have an appropriate safety management system in place to prevent workplace injury and illness, and that WHS policies and procedures are being followed.
The safety audit screens for due diligence and identifies any weaknesses in your WHS system that may lead to injury, illness or non-compliance fines.
In summary, a safety audit:
Is a WHS screening for due diligence. By carrying out a safety audit, employers develop an understanding of current needs, and compliance in relation to these needs.
Provides a WHS compliance report to relay any actions required to meet safety regulations.
An audit may be carried out as a one-off appointment to update compliance or as part of a regular WHS program. The audit might focus on a particular safety concern, such as traffic management or manual handling, it may focus on a particular part of an organisation, for example, office workers or drivers, or it may look into the entire WHS policies and procedures of a small business – or of a large organisation.
Safety audits can be carried out via a desktop screening appointment with a WHS consultant or via an on-site review. A WHS consultant brings their knowledge of the latest WHS legislation and industry-specific requirements to the audit to check all aspects of the workplace and the way that work is carried out against a safety framework. We conduct safety audits in line with relevant state legislation and standards.
Some workplaces may have a paper-based Safety Management System, while others may use WHS Compliance Management Software to run regular compliance checks. Whatever system your workplace uses, our WHS consultants can work with you during a safety audit and deliver solutions to improve on, or validate, your WHS compliance.
In summary, a good safety audit will:
Identify the risks and the levels of those risks within the workplace.
Uncover strengths and weaknesses in your safety procedures.
Check that your WHS system complies with legislation.
Check your WHS policies and procedures meet best practices and legal obligations.
Provide guidance to improve your safety procedures.
Make sure you have adequate resources to manage your WHS obligations.
Again, the checklist for the audit will vary between organisations. In general, a WHS Safety Audit will cover areas such as:
Adherence to the primary duty of care.
Due Diligence of officers.
WHS planning and responsibilities.
Implementation of all WHS procedures and activities.
Hazard identification, assessment and control.
Safety training and competence of internal WHS officers/managers.
Continual checks and balances in place for WHS policies and procedures / due diligence.
An audit of the WHS system and its overall performance, including a review of any accidents or illnesses that have occurred and how to prevent them from happening again.
We're experienced in identifying key WHS concerns, gaps and compliance requirements and providing best practice strategies to deliver beneficial outcomes. We're able to advise on, and deliver, tailored solutions to meet the specific WHS needs of a range of sectors from construction, hospitality and the motor trade industry to aged care, agriculture, education and small to medium businesses.
Contact us for more information about how we can help your organisation.
Establishing a WHS Management System helps a workplace meet its duties and responsibilities under its' state WHS legislation and regulations.
ISO 45001:2018 is the international standard in the management of work, health and safety and specifies the conditions for a workplace's system. We support businesses to align with ISO or to elevate their systems to the next level to achieve certification.
AltiusWHS is a cloud-based software solution that makes it easy for businesses, large and small to comply with their WHS obligations and manage their day-to-day WHS operations. Responsive design means AltiusWHS can be accessed easily via laptop, desktop, tablet or mobile.
AltiusWHS includes modules with all the online tools you need, covering: Incident Notification and Investigation; Monitoring Hazards and Corrective Action; Safety Planning and Compliance; Risk Management and Risk Registers; Customised Inspections and Audits; Human Resources Management; Inductions and Training; Chemical Management; Communications and Noticeboards; Reporting and Contractor Management.
AltiusWHS can be paired with Altius Group support for extra peace of mind and ease in operating your WHS Management System.
AltiusWHS ensures legal compliance: It's aligned with the latest legislative framework.
It saves money: Capturing and recording your safety activity keeps your workplace productive, and compliant and can assist in keeping your workers' compensation costs down.
It saves time: With all the tools you need to capture safety activity and monitor your progress simply, you'll spend less time tracking how your workplace safety is going.
AltiusWHS provides peace of mind: By making it easy to capture hazards, actions and incidents on any device and log your response, and providing resources backed by up-to-date evidence and legislation.
Altius Group Engaged Return to Work Coordinators can provide first-response to workplace injuries logged in AltiusWHS in 'real-time'.
Customised notifications for workplace incidents can connect to your support network - this may include the rehabilitation provider, Return to Work Coordinator or insurance broker.
You can connect your employees to our Employee Assistance Program (EAP) by providing employees access to support through the online platform.
Connection to expertise during a crisis requiring Critical Incident Response support.
Data collection and analysis can provide strategic workplace solutions to address WHS and workers compensation trends.
We can integrate the platform so that it connects you to your insurance broker for assisted claims and policy management.
Everything is stored in the cloud for easy access, visible via an easy-overview dashboard.
Responsive design means the system self-configures to suit any device.
You're able to build the system to best suit your business needs.
Industry-leading security systems safeguard your documentation.
Email notifications and reminders keep your safety plans on track.
With added features including a virtual filebox, language translation, time zone management and social media integration, AltiusWHS has you covered.
Safety Planning and Compliance: Establish and allocate compliance tasks unique to your workplace and monitor their progress via the dashboard.
Customised Inspections and Audits: With functions to help you create, schedule and ensure inspections are completed.
Monitoring Hazards and Corrective Action: Input, track and monitor such actions and improvements, complete with reminders.
Human Resources Management: Store worker emergency contacts, training details, workers' compensation documents and performance management information in the one accessible location.
Risk Management: Identify and keep track of risk in the workplace whilst ensuring associated corrective actions are tracked and completed via an integrated risk register.
Chemical Management: Keep Safety Data Sheets (SDSs) up-to-date and available to workers. Upload, update and store important hazardous chemical information in the cloud for easy access.
Training: Upload relevant training documentation and certifications, and track expiry dates to know your people are properly trained.
Communications: Share important documents with workers, contractors, and others, and request acknowledgement of receipt. Handy for inductions, contractor management, and capturing completion information.
Noticeboard: Keep your team up-to-date with the latest news, announcements, and important information, by configuring your own virtual safety notice board.
Site Attendance: Our workplace or site attendance register is specially designed for your COVID-19 workplace response.
Reporting: Oversee, track and report on the progress of your safety management system, in real time! Harness the power of your data, identifying trends and capturing insights to ultimately improve your safety performance.
Analytics: Visualise your desired insights and detect future trends via customisable, interactive dashboards.
Covering your Insurance Needs: Manage insurances, registrations, licences and certificates with useful reminders as expiry dates approach.
Contractor Management: Using the functionality of our records management modules.
Our consultants are appropriately trained, and we will provide the testing equipment. You just need to tell us where, when and who we are to test, ensuring that the testing is in line with your organisation's policies.
Upon arrival, our testers will ensure the collection environment is prepared according to standards. The area should be clean and safe, and support the privacy and confidentiality of the participants. Our testers will: Confirm the identity of the person being tested; Explain that the test is being conducted in accordance with the organisation's Drug and Alcohol Policy; Explain the process to the participant and gain consent. Results are obtained within minutes. However, if a non-negative result is obtained the result may be sent away for confirmation testing in accordance with Chain of Custody legal requirements.
Saliva tests are a popular alternative to urine drug tests because they are quick and easy to use, require minimal preparation, and are cost-effective. The specimens are a lot harder to tamper with, as samples are collected in full view of the person administering the test. Results are obtained within minutes.
WHS legislation and regulations, whether state-based or national, in most cases, do not have specific requirements relating to drugs and alcohol. However, they do specifically require risks to be managed, eliminated or reduced wherever possible.
With the prevalence of drugs (including alcohol) in Australian society, it is reasonable to always consider drugs and alcohol as risks to be managed in the workplace. The impact of drugs and alcohol can pose a significant risk to individuals and organisations, particularly when conducting activities such as plant and machinery operations.
Altius Group conducts On-Site Drug and Alcohol Testing in accordance with Australian Standards AS/NZS 4308:-2008 (Urine) and AS/NZS 4760:2019 (Oral).
Upon arrival, our testers will ensure the collection environment is prepared according to the requirements of the standards. The area should be clean and safe, and support the privacy and confidentiality of the participants. Our testers will confirm the identity of the person being tested, and that the test is being conducted in accordance with the organisation's Drug and Alcohol Policy. Prior to commencing, we will explain the process to the participant and gain consent. Testing is always carried out in line with the manufacturer's specifications.
Saliva tests are a popular alternative to urine drug tests because they are quick and easy to use, require minimal preparation, and are cost-effective. The specimens are a lot harder to tamper with, as samples are collected in full view of the person administering the test. Results are obtained within minutes. If you are interested in this service, please contact us.
Our audiometric tests and hearing tests are carried out by specialists with training in this area, in line with Australian/New Zealand Standards. Audiometric testing should be made available to all people likely to be exposed to workplace noise above exposure criteria in line with state specific WHS guidelines. It is recommended audiometric testing be done within three months of commencing employment, but prior to noise exposure as part of the pre-employment screening assessment is ideal for a baseline measure.
Our certified consultants administer efficient and accurate drug and alcohol screening tests to minimise workplace risks posed by recreational drug use. We perform saliva drug device testing, simply and discreetly, ensuring confidentiality, with results available within minutes. We can also arrange for the drug and alcohol screening to be conducted by way of Chain of Custody testing at an accredited pathology centre, these results can then be relied on for medical or legal purposes. We also assist workplaces to develop and review Drug and Alcohol Policy.
Spirometry assessment measures the degree of airflow obstruction. This respiratory assessment is often used to assess for asthma, chronic obstructive pulmonary disease (COPD) and other lung diseases that may impact work function.
Functional assessments may be required to assess a candidate's ability to perform the inherent physical requirements of a specific role and to determine if any modifications are recommended. A job-specific functional assessment is matched to each individual job role.
We can arrange a pre-employment medical assessment at a candidate's local medical centre to screen for conditions that may have a detrimental effect on the candidate's health. The medical assessment screens for conditions such as hypertension, diabetes, hernias or eyesight deficits. Such conditions may not be a reason to refuse employment but may result in intervention that better allows the candidate to perform the proposed job.
As part of the mental health assessments, the K 10 is a widely used, simple self-report measure of psychological distress that can be used to identify those in need of further assessment for anxiety and depression. This measure was designed for use in the general population.
These assessments are designed to measure effective and ineffective ways to cope with a stressful life event. The assessments determine someone's primary coping styles as either Approach Coping or Avoidant Coping, and their ability to bounce back or recover from stress.
The employer may also request an FFD where the treating practitioner's assessment of an employee is not sufficient to satisfy the employer in relation to an employee's fitness or otherwise. The employer may also request a fitness for duty assessment where the treating practitioner's assessment of an employee is not sufficient to satisfy the employer in relation to an employee's fitness or otherwise.
Safe Work Australia has identified the psychological risk factors that organisations should prioritise to assess and manage:
Role overload with high workloads or job demands
Low workload or job demands
Low job control
Poor support from supervisors, managers or co-workers
Conflict or poor workplace relationships between workers, supervisors, managers and co-workers
Role conflict or lack of role clarity
Poor organisational change consultation
Inadequate reward and recognition
Poor procedural justice
Hazardous physical working environments
Remote or isolated work
Exposure to traumatic events
Workplace violence and bullying
Harassment including sexual harassment
Safe Work Australia's paper "Health and Safety Management Systems - An Analysis of System Types and Effectiveness" reported that the cases with more highly developed health and safety management systems are found to share a range of key distinguishing characteristics:
Have senior managers take an active role in health and safety.
Encourage supervisor involvement in health and safety.
Have health and safety representatives actively involved in health and safety management system activity.
Have effective health and safety committees.
Have a planned approach to hazard identification and risk assessment.
Give high priority and consistent attention to control of hazards at source.
Have a comprehensive approach to workplace inspections and incident investigations.
WHS is an acronym for Work Health and Safety and OHS stands for Occupational Health and Safety, and both describe the safety of individuals in the workplace. There's no major difference between these terms as WHS is the new term that was introduced with the harmonised Work Health and Safety Act, which most states and jurisdictions have adopted.

Victorian legislation is still termed the Occupational Health and Safety Act, and hence OHS is still widely used in Victoria. International standards such as ISO45001:2018 also still refer to OHS.

In both cases, Work or Occupational Health and Safety is concerned with protecting the safety, health, and welfare of people engaged in work or employment.